The new multi-functional cold oil press machine is based on the improvement of similar products. The cold oil press machine is easy to use, simple to operate, and has a high oil yield. It is professional equipment specially designed for pressing oil crops such as sesame, peanut, walnut, almond, pine nut, and tea seed. This machine can be used for both cold press and hot press.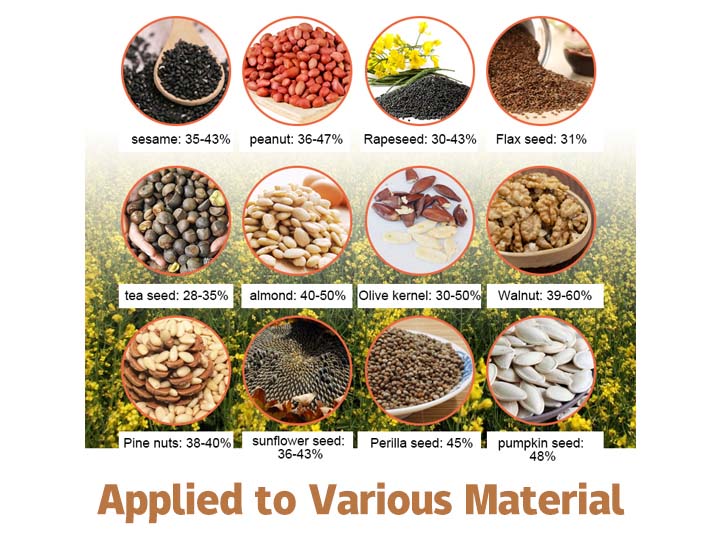 So what is the cold press and what is the hot press?
Cold press:
Cold press is also called the raw press. Oil is sent to the oil press without heating or at a low temperature before pressing. The extracted oil has a lower temperature and lowers oleic acid content. Generally, it does not need refining. After precipitation and filtration, the product oil can be obtained.
Hotpress:
Hot pressing is also called ripe pressing. Most of the vegetable oils used in daily life are hot-pressed oils. That is, the oil is cleaned and crushed before pressing, and then heated at high temperature. The high temperature will cause a series of changes in the interior of oil crops: destroying oil cells, promoting protein denaturation, reducing oil viscosity, and so on, so as to be suitable for crushing the oil and improving oil yield.
The difference between the two is as follows:
Cold pressing can retain the original flavor of oil and is the choice for a healthy life. But most oils are not suitable for cold pressing. Taking soybean, rapeseed, and cottonseed as examples, beany odor contains in soybean oil, spicy taste in rapeseed oil, gossypol toxin in cottonseed oil and aflatoxin in deteriorated oils, which can only be removed by hot pressing. The rich fragrance of sesame oil and peanut oil can only be obtained by hot pressing. So, in short, cold-pressed oil is healthy, and hot pressed oil is delicious.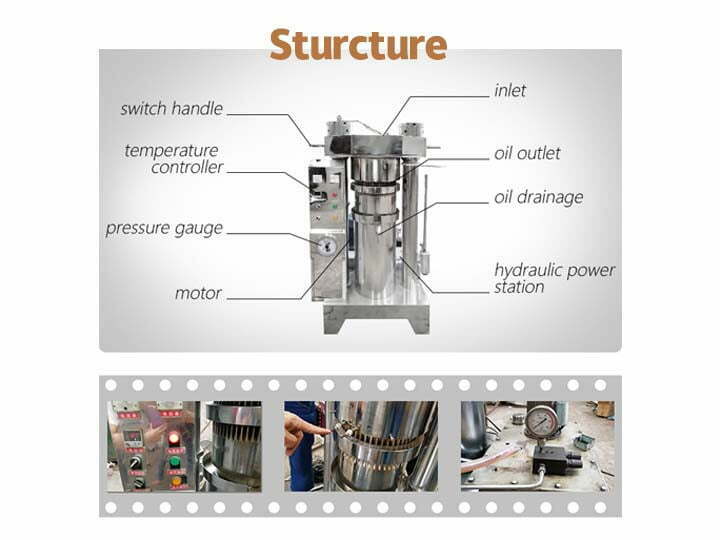 Cold Oil Press Machine Application Market:
A hydraulic oil press machine can be used not only for cold pressing but also for hot pressing, which has a wide range of applications. But generally speaking, this machine is often used for cold pressing.
Oil crops that can be used for hot pressing: sesame, flax, peanuts, rapeseed, wheat germ, corn germ, etc.
Cold-pressed healthy oils: walnuts, almonds, pine nuts, olives, macadamia nuts, camellia seeds, etc.
Seasonings and Chinese medicines: pepper, tea seeds, perilla, etc.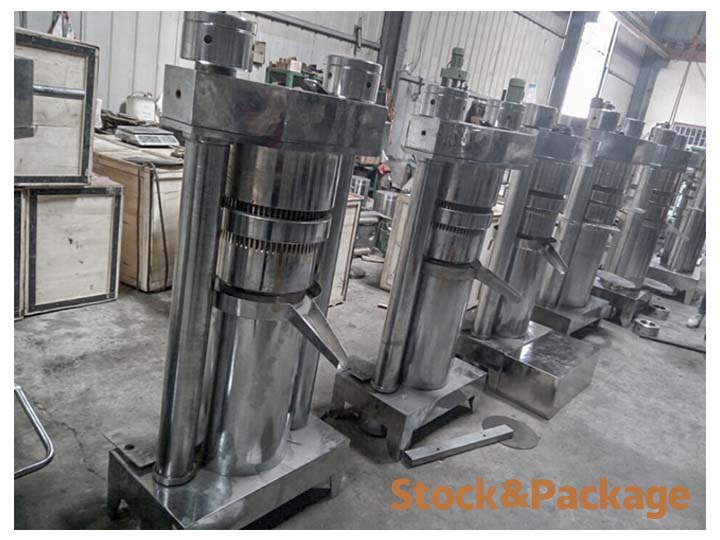 Cold Oil Press Machine Advantages:
High oil yield. The normal oil yield can be 2 to 3 percentage points higher than that of older equipment. For every 100 kilograms of peanuts processed, an average of 2-6 kilograms of oil can be squeezed. The annual economic benefits are considerable.
The quality of the oil is good. Pure physical pressing has a high oil yield. No temperature is generated during the cold pressing process. The oil composition is not destroyed, and the impurity content is small.
Energy-saving. The same output of the new hydraulic oil press can reduce electric power by 40%, saving an average of 6 degrees per hour, and saving 20 yuan in electricity production per day.
Save labor. Reduce labor intensity. The same output can save 60% of the labor force, and 1 to 2 people can organize production, saving labor costs of about 40 yuan per day.
Wide range of uses. It can be used for more than 30 kinds of oil crops such as peanut, flax, sesame, rapeseed, oil sunflower, and soybean.
Small footprint. The cold oil press machine needs 10-20 square meters to be used.
Excellent material and precise craftsmanship. The machine is made of high carbon steel, with high hardness, high strength, and good wear resistance. It is suitable for high temperatures and high pressure and can continuous operation. The oil press has a long service life and can last for several decades.
The oil extraction efficiency is high and the appearance is exquisite. Mechatronics design, low failure rate, and a high degree of automation, from the filling to the completion of oil extraction only need 8-10 minutes.
All seasons are suitable and unrestricted. Because the oil pan device of this hydraulic press adopts a heating temperature control system, which can automatically adjust the temperature of crude oil according to the ambient temperature. Therefore, it is not affected by season and climate and can work all the year-round.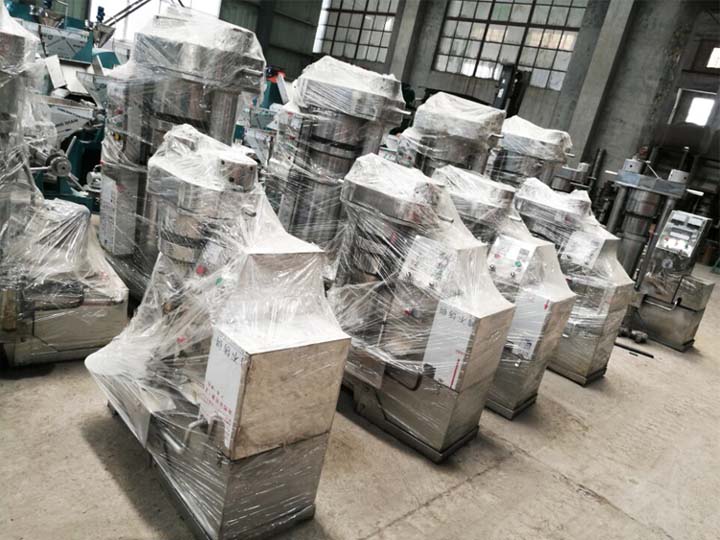 Cold Oil Press Machine Parameters:
| | | | | | |
| --- | --- | --- | --- | --- | --- |
| Type | 6YZ-150 | 6YZ-180 | 6YZ-230 | 6YZ-260 | 6YZ-320 |
| Size (mm) | 400*500*850 | 500*650*1050 | 600*850*1360 | 650*900*1450 | 800*1100*1550 |
| Weight (kg) | 250 | 750 | 1050 | 1400 | 2000 |
| Maximum working pressure | 55 | 55 | 55 | 55 | 50 |
| Electric heating coil power(kw) | 2 | 2 | 2 | 2 | 2 |
| Electric heating ring control temperature | 70-100 | 70-100 | 70-100 | 70-100 | 70-100 |
| Barrel capacity(L) | 2 | 4 | 8 | 11 | 15 |
| Oil cake diameter(mm) | 150 | 180 | 230 | 260 | 320 |