In September 2023, our company received an order from a valued client in Peru for a top-of-the-line commercial vegetable washing machine. The client's primary objective was to utilize this cutting-edge equipment for the efficient cleaning of potatoes, a staple in their agricultural produce. This case study delves into the details of the industrial fruit washing machine, designated as Model TZ-1200, and explores the impact it has had on the client's potato processing operations.
Commercial Vegetable Washing Machine Specifications
Model: TZ-1200
Capacity: Approximately 800-1000KG/H
Voltage: 440V, 60HZ, 3-phase
Power: 1.5KW
Hair Roller Length: 1200mm
Equipment Size: 2000x850x800mm
Equipment Weight: 280kg
Meeting Client Needs
Our commercial fruit and vegetable washing machine, equipped with a hair roller measuring 1200mm in length, is meticulously designed to handle the specific requirements of potato cleaning. The robust capacity of 800-1000KG/H ensures a seamless workflow, catering to the client's demand for efficiency and productivity in their agricultural processing facility.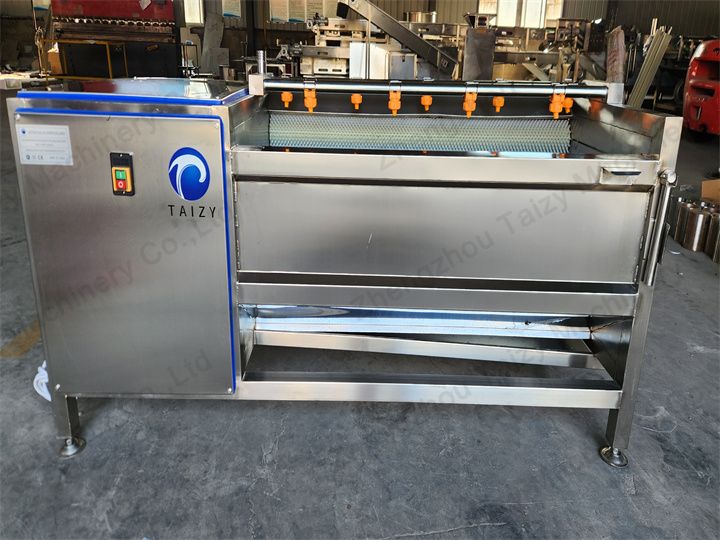 Tailored for Efficiency
The TZ-1200 boasts a powerful 1.5KW motor, running on a 440V, 60HZ, 3-phase voltage system. This high-performance configuration is tailored to meet the demands of a commercial setting, ensuring the machine operates at optimal levels, effectively tackling the challenges posed by large-scale potato cleaning operations.
Quality Construction
Constructed with machine material composed of 304 stainless steel and featuring stainless steel bearings, our commercial vegetable washing machine prioritizes durability and hygiene. The use of premium materials not only ensures a long lifespan of the equipment but also meets the stringent standards necessary for food processing applications.
Shipping and Arrival
Upon finalizing the order, the TZ-1200 was promptly prepared for shipping, adhering to the highest standards of packaging and handling. The machine reached its destination in Peru within the stipulated timeframe, ready to contribute to the client's potato cleaning operations.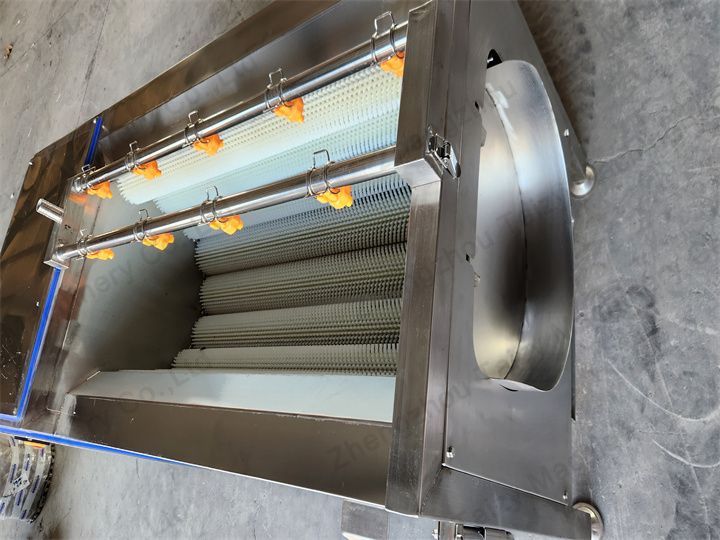 Operational Impact
Since the installation of the commercial fruit and vegetable washing machine in the client's facility, there has been a noticeable improvement in operational efficiency. The high throughput of the machine has significantly reduced manual labor requirements while maintaining a consistent standard of cleanliness for the processed potatoes.
Long-Term Benefits
The decision to invest in our TZ-1200 has not only enhanced the immediate workflow for our Peruvian client but also promises long-term benefits. The durability of the machine ensures that it will withstand the rigors of continuous operation, providing a reliable and efficient solution for years to come.
The shipment of our commercial vegetable washing machine to Peru stands as a testament to our commitment to providing cutting-edge solutions tailored to our client's needs. The TZ-1200, with its advanced features and robust design, has not only met but exceeded the expectations of our Peruvian client, contributing to the optimization of their potato processing operations. As we continue to innovate and evolve, we look forward to supporting more clients globally in their pursuit of excellence in food processing.