The garlic root cutting machine is also called a double-headed garlic root and stem cutting machine. Although it has two feeding ports, it can work at the same time. This machine is a very small machine that can remove the roots and stems of garlic at the same time. As a practical machine, it can reduce the work intensity of farmers or workers.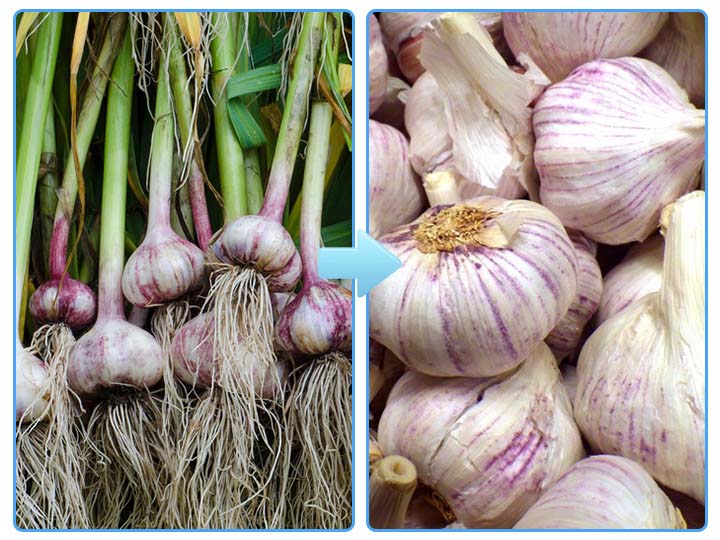 The working principle of this garlic root cutting machine
The garlic root and stem removing machine are mainly composed of a double-headed cutter head, a discharge port, a fuselage, and a motor.
First, place the garlic that needs to remove root into the feed port of the machine. There are two high-speed rotating knives in the feeding port. The front knife can remove the root of garlic, and the latter knife can remove the stem of garlic. Note that you can only put one garlic in each operation. Too much garlic will affect the efficiency of the machine.
Features of the garlic root removing machine
The floor space is very small and the transportation is convenient. It can work both inside the factory and in the field, which is very convenient to use.
All machines are made of high-quality 304 stainless steel, which meets national food safety standards.
High working efficiency, can process 5000-8000 garlic in one hour.
The cutter is an important part of the entire equipment. After special processing, the cutter can be used for a long time without wear.
Compared with ordinary motors, the motors in this garlic root cutting machine consume less power and save energy.
Technical data
| | |
| --- | --- |
| Capacity | 6000-8000 pcs/h |
| Voltage | 110/220 V AC Direct current, 48 V Alternating current |
| Power | 140 W |
| Size | 67*40*55 CM |
As you can see, our garlic root cutter can cut 6000-8000 garlic roots in one hour. So, it can meet the requirements of most markets.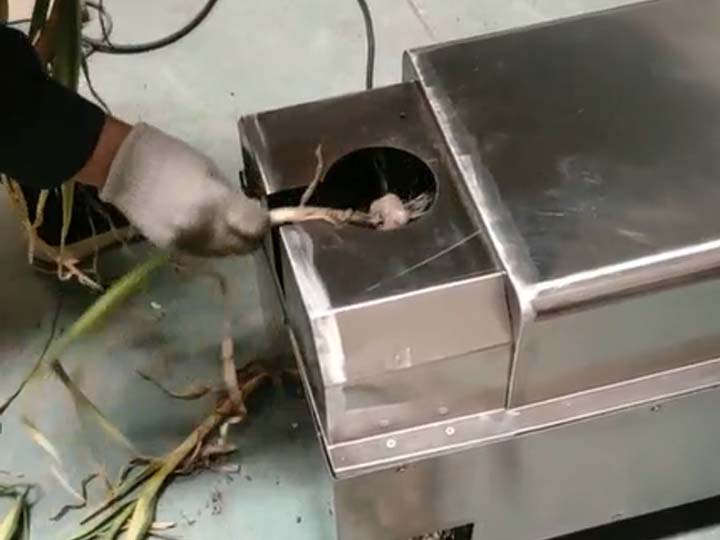 Successful case
In May 2019, a customer from Russia contacted us and said by mail that they needed two garlic root cutting machines. Soon our sales consultant Cindy contacted him and sent him pictures, videos, quotes, etc. Customers have their own farms that grow large areas of garlic. And because he want to make black garlic.
After Cindy's introduction, customers are very satisfied with the price and quality of this machine. In the end, we received the full amount of the customer in early June. Since the operation of this machine is very simple, customers can install it according to the instructions of the manual, so there is no difficulty in terms of after-sales use. The customer stated that the machine worked well and replaced the traditional method of using scissors.