Corn noodle making machine is also called a multi-functional noodle maker, which can be used to make cornmeal noodles, buckwheat noodles, rice flour noodles, etc. The machine uses the principle of spiral extrusion to continuously extrude the raw materials into noodles.
Structure of noodle making machine
The rice flour noodle machine is mainly composed of a feeding port, a discharging port, an operation platform, two fans, one motor, four universal wheels, a stainless steel body, etc.
This machine is made of high-quality 304 stainless steel. It is durable and easy to operate.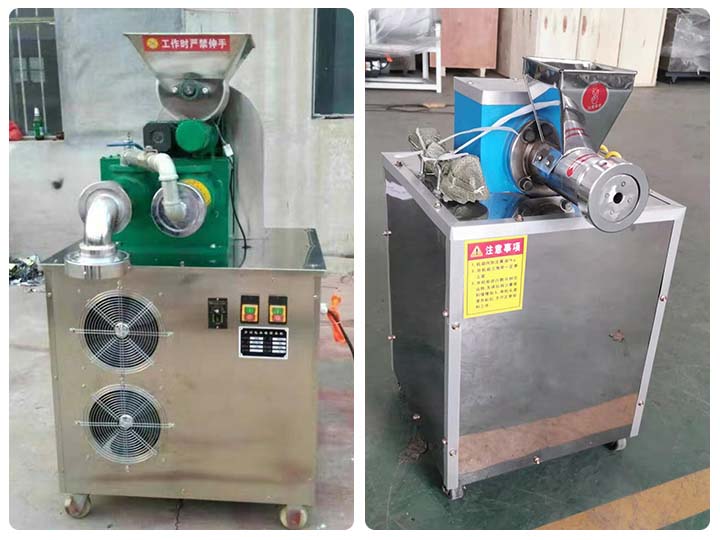 Feeding port: There is an auger inside the feeding port. You can add flour directly to the feeding port, and make the flour into dough under the rotation of the auger. You can also use a flour mixing machine to make flour into the dough, and then put it into the machine for production.
Discharge port: a mold is installed at the discharge port. If you want to make products with different specifications, you only need to change the mold.
Control panel: The operation of this noodle making machine is very simple. Turn on the start button to start production automatically. Click the close button to stop the machine.
Fan: mainly used for cooling the finished product.
Motor: The motor uses internationally renowned brands to ensure the long-term durability of the machine.
Universal wheel: facilitate the movement of the machine.
Stainless steel body: meets national food safety standards, and can prevent corrosion and rust.

What are the benefits of eating cornmeal noodles?
Compared with coarse grain, fine white flour has reduced the corresponding nutrients in the process of processing. The protein content of the coarse grain is relatively less, but the content of starch, cellulose, inorganic salt, and B vitamins is greatly increased. In addition, due to a large amount of insoluble cellulose in coarse grains, it increases the time for food to remain in the stomach, delays the absorption of glucose after meals, and reduces the risk of hypertension, diabetes, cardiovascular and cerebrovascular diseases.
What are the advantages of this noodle making machine?
All stainless steel body. Prevent the machine from rust and corrosion when contacting with dough for a long time
Multiple uses for one machine. You only need to change the mold to make different kinds of pasta.
There is a non-stick coating on the mold surface to prevent the finished product from sticking and affecting the quality of the finished product.
The noodle making machine uses the principle of hot pressing, and the temperature can reach 200 ℃ during production. The finished product is mature and can be eaten directly.
Double fan system to prevent rice flour noodles from sticking.
All copper motors to extend the service life of the equipment.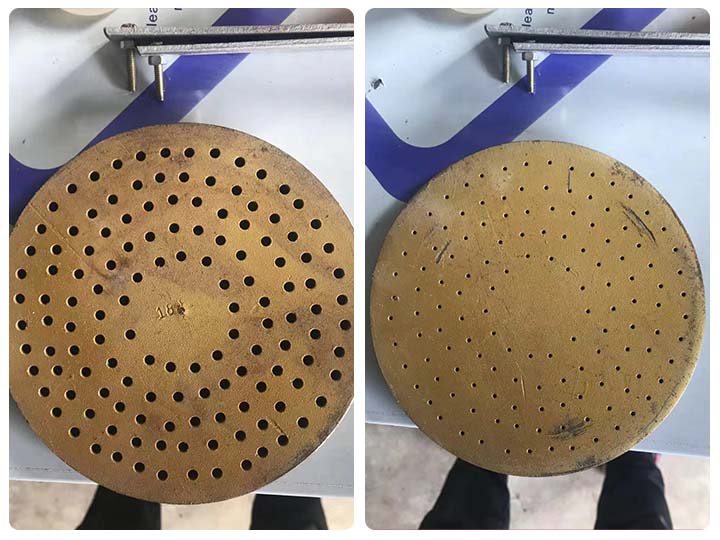 Parameters of the multi-function noodle making machine
| | | | | |
| --- | --- | --- | --- | --- |
| Type | Size | Weight | Power | Output |
| Small | 60*70*110 | 100 | 3 | 30 |
| Middle | 70*80*120 | 150 | 5.5-7.5 | 50-60 |
| Big | 110*110*150 | 230 | 11 | 100-130 |