Rice glueball (tapioca pearl) is a traditional food in China. It is widely welcomed because of its homophonic meaning "reunion". Nowadays, there are more and more kinds of rice glueball, such as fruit, nuts, not only have many flavors but also are sold abroad. The huge consumer market also brings broad market prospects for tapioca pearl (rice glue ball) machine. This machine can make Tangyuan, cassava balls, pills, milk tea Boba and so on.
Introduction of the Tapioca Pearl Making Machine
Dry powder box, inlet, discharge outlet, universal wheel, outlet, operation plate and repression system are the main components of the Tapioca pearl making machine.
This system can produce more tapioca pearl, improve production capacity, and it is economical and practical. At present, the production capacity of this machine is equivalent to 12 workers producing tapioca pearl at the same time, which greatly saves labor costs. In addition, the production system of this machine adopts screw mixing system, which is convenient for operation and cleaning. What's more, this machine is made of 304 stainless steel, which not only has a beautiful appearance but also can make the material smoothly and meet the food hygiene standards.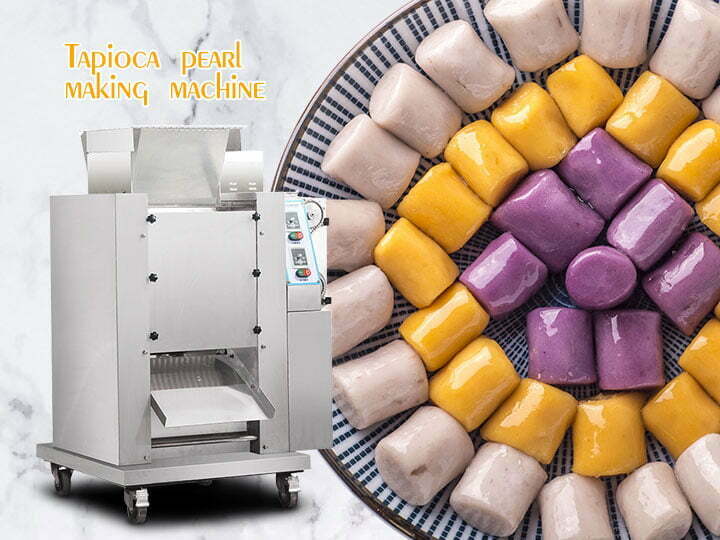 Operation Method of Tapioca Pearl Making Machine
It is very simple to make tapioca pearl/boba with this machine. Take 10 kilograms of glutinous rice flour, add 4.5 kilograms of boiling water, mix well in the dough mixer, press the dough into a flat square by hand, the thickness should be controlled between 20 and 25 mm, and then put the dough into the inlet to process.
(The machine has three inlet ports, which are divided into front, middle and back grids. Dry rice flour is put in front and back grids, and the dough is put in the middle. Such a design can largely avoid the sticking phenomenon in making rice glueball.)
Advantage of Tapioca Pearl Making Machine
Using screw extrusion and rubbing technology, combined with the technical requirements of pastry points, the products have beautiful appearance, uniform size, bright and delicate surface, smooth taste and good elastic toughness.
To put the dough into the inlet and outlet, the dough can be automatically rounded and shaped when the machine is turned on, and the products are not easy to deform.
Complete functions and wide applicability. It can make Tangyuan, cassava balls, milk tea Boba and so on.
Major parts and components are made of stainless steel, which has a beautiful appearance and meets the food hygiene standards.
The high degree of automation, accurate quantification. 5 minutes can be operated freely, even without experience can also be operated by one person.
High working efficiency, equivalent to 8 to 12 workers at the same time making hand-made tapioca pearl. The real low investment, high efficiency, saving money and labor.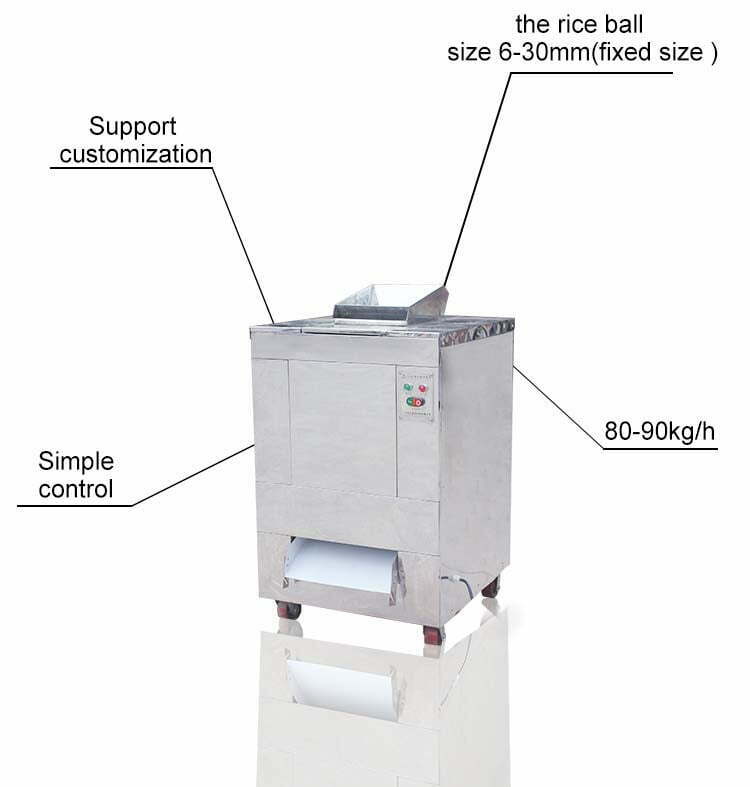 Characteristic of Tapioca Pearl Making Machine
The design is reasonable and the operation is simple and convenient.
Low power consumption and high production efficiency.
It can be used to make the Lantern Festival or other balls (such as traditional Chinese medicine pills).
Frequently Asked Question
The output of this machine and the size of the tapioca pearl?
Answer: The output of this machine is 20-50KG/H. The size of the product is 6-14mm. The size of the tapioca pearl produced by each machine is fixed, and only one size can be fixed in this range.
2. Can we order more molds to make different sizes of tapioca pearl?
Answer: No, because the wiring inside the machine is more complex, non-technicians will destroy the wiring when disassembling the machine, and improper operation may affect the subsequent use of the machine.
Can other sizes be made? For example, 24mm.
Answer: 24mm has exceeded the standard, but it can still be done. However, special customization is required and you need to pay some additional customization fees.
Can I make other colors or just white ones?
Answer: It depends on your raw material, what color the raw material is and what color the product is. For example, the raw material is purple potatoes, and the finished product is purple. You can also change the color of the product by adding food pigments.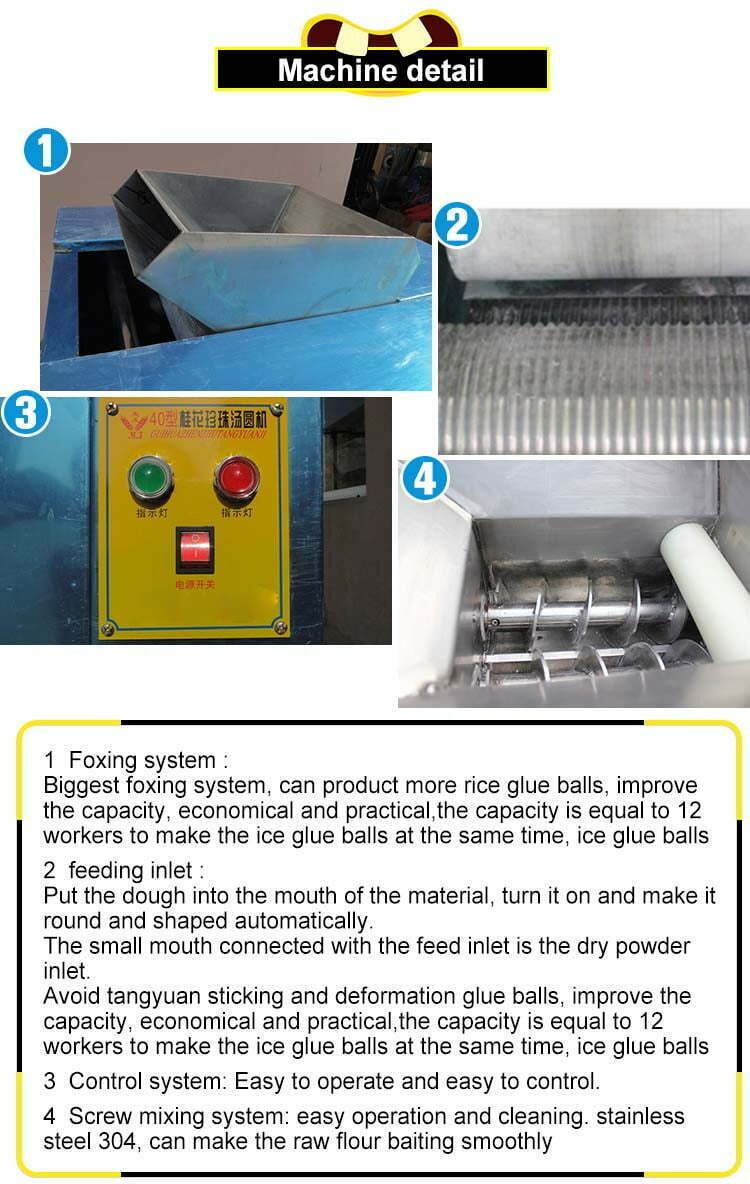 Parameters of This Machine
Output
Voltage
Power
Frequency
Size
20-50KG/H
220V/380V
1.1KW
50HZ
780*750*

1300mm
Company Strength
Zhengzhou Taizy Machinery Equipment Co., Ltd. is a leading machinery manufacturer and foreign trade enterprise in China. Since its establishment in 2011, Taizy products have been sold to more than 100 countries around the world and have established a profound friendship. Today, Taizy has become an indispensable part of the global machinery and equipment industry, and also enjoys a high reputation in China. Taizy has invested a lot of money in the introduction of talents to ensure the excellent quality and thoughtful design of products by employing experienced and technologically advanced mechanical designers. Taizy Machinery Equipment Co., Ltd. has never stopped moving forward. We look forward to cooperating with you.
Video
How to make Boba? How to clean the Boba making machine?