In January, we received an inquiry from a customer from the Philippines. He wants to know our 500L jacketed pot, gas heating. Our sales manager, Elva, learned that the customer's raw materials are corn and bones. He wants to use a sandwich pot to make bone soup.
After that, the customer told us that we wanted to know the 200L gas heating sandwich pot. Elva introduced the machine to customers in detail through videos, pictures, materials, quotations, etc. After comparison, the customer feels that the 200L jacketed pot is enough for his own use.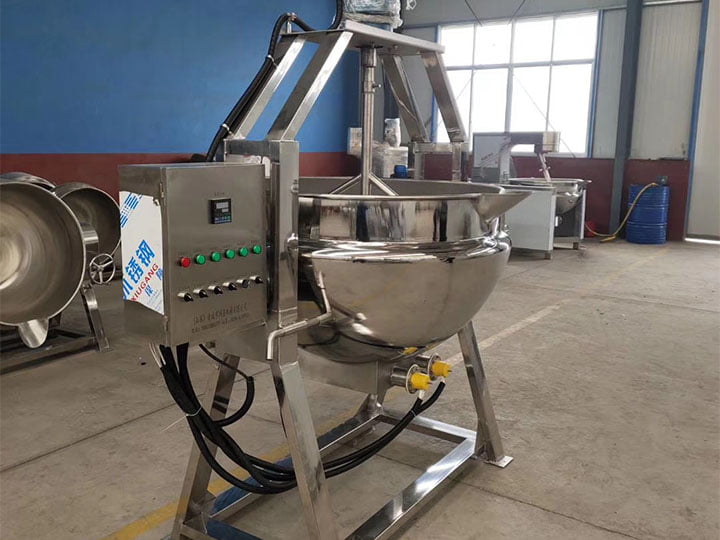 The order reached! 200L sandwich pot!
We are both a distributor of machines and a manufacturer of machines, so the price we give is the best. Although the customer hesitated after learning about the machine, they finally chose our machine.
Since the time for the customer to purchase the machine is close to the Chinese New Year, we have given the customer a certain discount. After receiving the goods, the customer is satisfied with our machine. After a short time, he purchased a 100L electric heating sandwich pot from our company again.
Why do customers choose our sandwich pot?
There are various heating methods, gas heating, electric heating, steam heating, electromagnetic heating, etc. This machine has the advantages of high heating efficiency, a large heating area, and low heat loss.
The machine is made of 304 stainless steel, acid and alkali resistant, beautiful appearance and long service life.
Easy to operate and safe to use. Equipped with pressure gauge and safety valve, stable operation, safe and reliable.
The parameters of the jacketed pot:
Because there are many kinds of sandwich pots, there are electric heating and gas heating according to the heating mode. According to the structure, it can be divided into the vertical jacketed pot and tilting jacketed pot (easy to discharge). In this paper, only the vertical sandwich pot with stirring shovel is taken as an example to provide parameters for your reference.
Heating mode
Output
Weight (kg)
Size (mm)
Power / Voltage (KW/V)
Gas heating
50L
60
750*750*700
0.75/380/220
100L
90
850*850*750
1.1/380/220
200L
120
950*950*800
1.1/380/220
300L
150
1050*1050*850
1.5/380
400L
180
1150*1150*900
1.5/380
500L
220
1250*1250*950
2.2/380
600L
260
1350*1350*1050
2.2/380
2000L
480
1960*1960*1400
4/380
Electric heating
50L
60
750*750*700
0.75/380/220
100L
90
850*850*750
1.1/380/220
200L
120
950*950*800
1.1/380/220
300L
150
1050*1050*850
1.5/380
400L
180
1150*1150*900
1.5/380
500L
220
1250*1250*950
2.2/380
600L
260
1350*1350*1050
2.2/380
2000L
490
1960*1960*1400
4/380