Jacketed kettle is also known as steam pot, cooking pot, sandwich steam pot. It usually consists of a pot body and a supporting foot. And the pan body is a two-layer structure consisting of a spherical body inside and outside, and the middle layer is heated by steam.
The parameters of the industrial cooking kettles
Metric volume
100L
200L
300L
400L
500L
….
Caliber
Φ700mm
Φ800mm
Φ900mm
Φ1000mm
Φ1100mm
Voltage
220/380v
380v
380v
380v
380v
Stirring motor power
0.37kw
0.75kw
1.1kw
2.2kw
2.2kw
Remarks
1.Machine material: ss304; 2.tiltable; 3. with stirring part( also can be adapted according to customer's demands)
Classification of jacketed kettle
Our company has more than ten years of experience in the research, development, and sales of the sandwich pot. Different types of the jacketed kettle can be classified according to various classification methods, you can choose to buy according to your needs.
According to the structure, there are tilting jacketed pot and vertical (fixed) jacketed pot.
Depending on the heating mode, there are electric heating jacketed kettle, steam heating jacketed kettle, gas heating jacketed kettle and electromagnetic heating jacketed pot.
According to the process needs, there are sandwich kettles with or without mixing equipment.
Depending on the sealing method, the sandwich pot can be divided into no cover type, flat cover type, and a vacuum type.
According to the output of the sandwich pot.
The characteristics of the jacketed kettle
Sandwich pot has the characteristics of a large heating area, high thermal efficiency, uniform heating, short boiling time of liquid and easy control of heating temperature.
The inner pan of the sandwich pan (inner pan) is made of 304 stainless steel with acid-resistant and heat-resistant. It is equipped with pressure gauges and safety valves. It has a beautiful appearance, easy installation, convenient operation, and safety.
Application of the sandwich pot
Jacketed kettle is usually used for stir-frying vegetables, sugar, gelatin, cooking oil, boiling noodles, fried fillings (such as bean paste filling, lotus paste filling, moon cake filling, mung bean filling, etc.), boiled dried bamboo shoots, boiled brine products (such as tofu dried, meat products, beans, chicken feet, chicken wings, stewed eggs, duck neck, etc.), soy sauce and other food industries. It is suitable for large restaurants or canteens for boiling soup, cooking, stewing, porridge boiling and so on, because it greatly saves labor time, improves working conditions and improves the quality of food processing.
Sandwich pot FAQ
Can biogas/natural gas be used?
A: If you buy a gas heating sandwich pot, biogas, natural gas can be used.
Can I buy a machine without a mixer but with a lid?
A: Yes. You can buy a covered sandwich pan without stirring device directly.
Can the stirring motor be changed to 110v?
A: Yes, the voltage can be changed by adding transformers.
Can we increase the temperature control meter on this machine?
A: You can add a control box and thermocouple.
Is the machine made of 304 stainless steel or 316 stainless steel?
A: 304 stainless steel. If you need 316 material, we can customize it for you.
How much heat-conducting oil does 100L electric heating pot need? How many heat-conducting tubes does it have?
A: 100L electric heating sandwich pot needs about 40 kg of heat-conducting oil, with a heating pipe. (Heating pipes are vulnerable parts. Suggest you buy a few more spare.)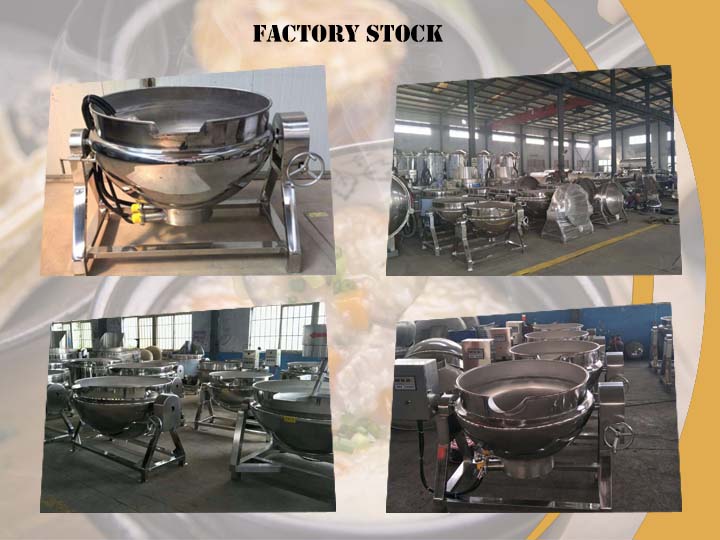 Related production line :
peanut brittle production line