The steam jacketed kettle with an automatic mixing function is widely used in the food processing industry. This automatic cooking machine can be used not only for boiling porridge and making delicious soup, but also for steamed buns, fried tea leaves, and fried melon seeds. It can even be used for high-temperature sterilization of canned bottles and other glass-packed products.
Classification of our commercial jacketed kettle
According to different uses and different processing materials, there are many types of commercial jacketed pans. There are three main types of products that are often sold in our factory: steam type jacketed kettle, electric jacketed pot, and gas type jacketed kettle.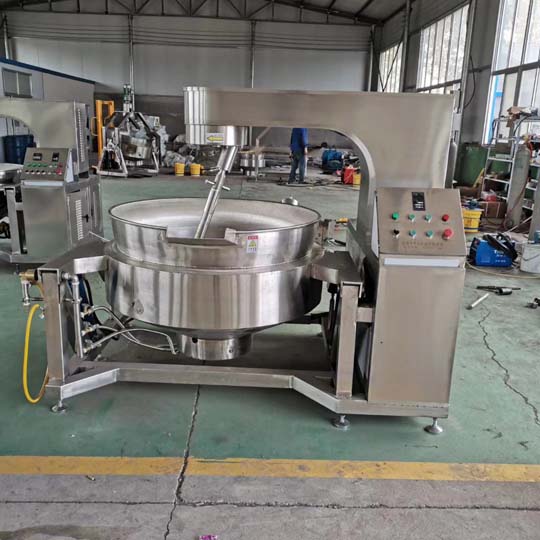 How to choose the heating method of jacketed kettle correctly?
The electric heating jacketed pan has good sales in the international market because of its simple operation and clean and hygienic production process, which can guarantee the quality of food. The advantage of the gas-fired jacketed kettle is that it can effectively use gas as a heating source, has high thermal efficiency, and can save costs. When using a steam-heated interlayer cooling pot, it is necessary to provide a corresponding boiler to provide steam for heating.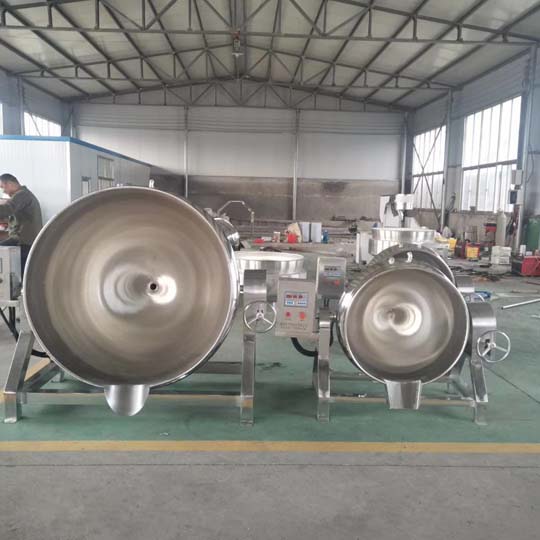 Details about the Myanmar steam jacketed kettle
The Myanmar customer has a restaurant of his own, and he wants to purchase a jacketed pan to make nutritious fish soup. The customer used to make fish soup in a small pot, the output was too low, and it caused some failures due to the longer use. Now the customer decided to buy a new one, a more efficient device for processing fish soup.
After communication, the customer finally chose a tiltable sandwich pot with an automatic stirring shaft inside. The processing capacity is 300L and the heating method is steam.
In addition, in order to improve the processing efficiency of fish meat, the customer also ordered a fish meat grinder from us. The customer mainly uses the meat grinder to grind boneless fish into pellets with a size of 4 mm.