Automatic meat skewer machine is a machine designed to improve the efficiency of skewering. The whole machine adopts a combination of pneumatic and electric, which not only improves the efficiency of skewering but also makes the kebab more beautiful. This machine is very efficient in wearing kebabs.
This automatic shish kebab machine can wear a kebab in 1.5-2 seconds, which is equivalent to more than a dozen manual working at the same time. In one year, you can save up to more than 10,000 yuan in labor costs. At the same time, it avoids the time-consuming and laborious phenomenon of manual wearing, which is easy to cut fingers. This automatic meat skewer machine is especially suitable for barbecues, food streets and other places.
The working principle of this automatic meat skewer machine
The body of the automatic meat skewer machine is made of 304 stainless steel, and the mold plate is made of food-grade PE material. The whole machine consists of a conveyor belt, an oil-water separator, a mold plate, a motor, a skewer device, and a skewer detection sensor.
When the efficient skewer machine is working, you first need to connect the machine power and make sure the motor and air pump are working properly. After starting the operation, the mold plate is moved forward by the rotation of the conveyor belt, and the mold plate passes through the sensing device during the advancement process. After the sensor device detects the signal, it transmits it to the program center, and the program center issues a command to cause the air pump to push the skewer device to perform the wearing work.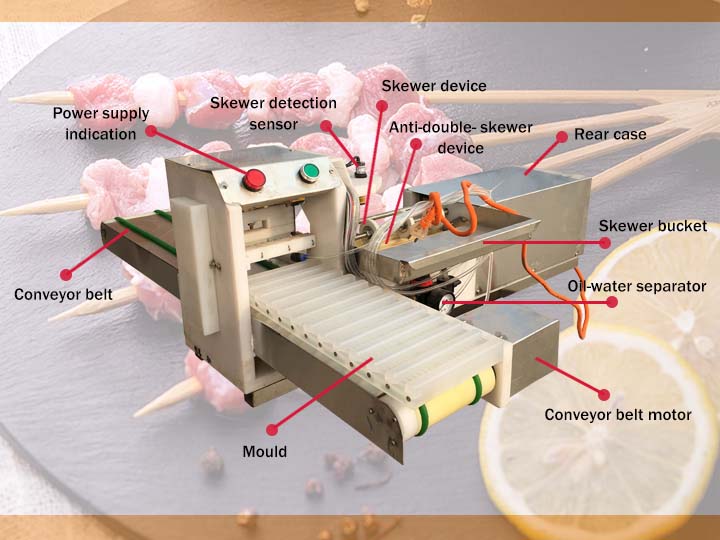 Technical parameters of the efficient skewer machine
| | | | |
| --- | --- | --- | --- |
| Cover material | Stainless steel + food grade PE plastics | Work efficiency | 1.5-2.0 seconds / wearing |
| Use Motivation | Pneumatic power | Meat skewer speed | 1800-2000 wearing skewers/hour |
| Control section | Microcomputer control | Size | 1000*1000*350mm |
| Weight | 30kg | Length of type 30 skewer | 250-300mm |
| Motor Power | 60w | Type 35 | 300-350mm |
| Voltage | 220v | Type 40 | 350-400mm |
| Leakage Protection | Have | Skewer diameter | 3.0-3.5mm |
From this table, we can see that our automatic meat skewer machine can string 1800-2000 kebabs per hour. This is much faster than artificial speed. By the way, you can choose different skewer lengths according to your needs. In this table, we have three skewer lengths: 250-300mm, 300-350mm and 350-400mm.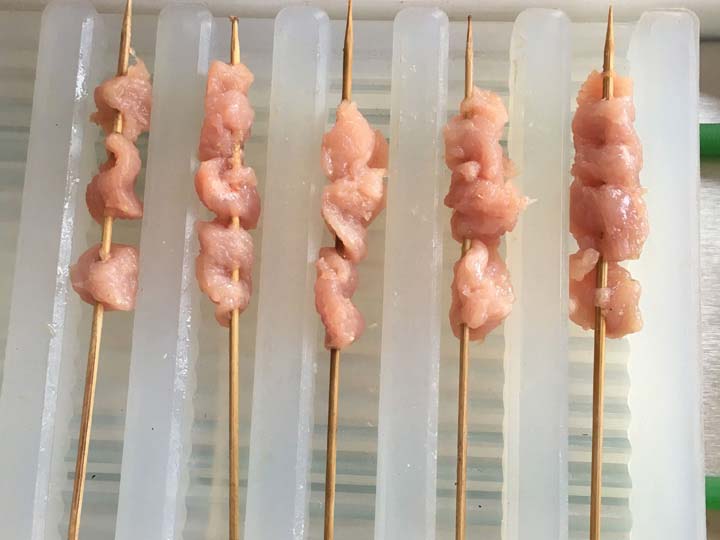 Application scope of kebab skewer machine:
Our kebab skewer maker can make kofta kebab,chicken shish,lamb kebab,beef kebab,veggie kabobs,shrimp kebabs,veggie kebabs,pork kebabs, etc.The skewer that is worn out is uniform in size and clean. Users can knock and shake meat skewers at will without loosening or falling. Most of the data on this multi-functional skewer machine can be customized. The length of the skewers is generally 25-40cm, and the special length can be customized.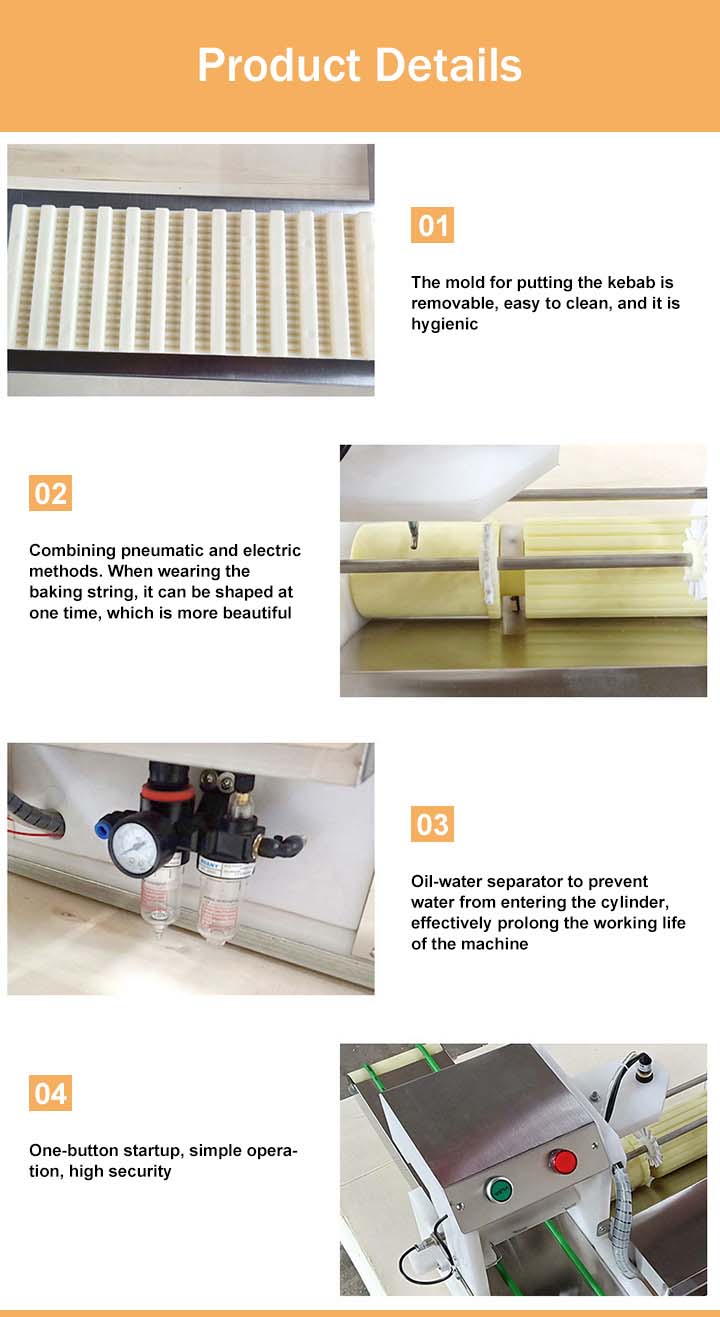 Advantages of the automatic skewer machine
Intelligent program control. PIC intelligent control, photoelectric sensing makes the machine run more smoothly.
Upgrade thick steel cylinders. Compressive, wear-resistant, air-tight piston.
Photosensitive detector controller. Accurately control the amount of the skewer, single release only, reduce the number of skewer errors.
The machine has multi-purpose, high efficiency. Our kebab making machine can be used for many purposes. It can not only be used for baking common kebabs, but also for making candy kebabs and ice-sugar gourds.
High-quality stainless steel fuselage. Industrial meat stringing machine with food-grade stainless steel
Multi-functional kebab skewer machine for commercial use. The speed of the machine can be adjusted to 2100 kebabs per hour at the fastest. Efficiency is more than ten times that of manual work. Many food factories are using it. The speed and quality can be guaranteed.
Commercial-grade BBQ skewer machine with digital control. The core of internal control adopts the advanced domestic PLC numerical control programming system, which can accurately complete the complex and precise operation process. Compared with the circuit boards of ordinary manufacturers, the running of this series automatic meat skewer machine is more stable.
The design structure is reasonable. This meat skewer machine has a reasonable structure, simple operation, high reliability, good wearing effect, easy and labor-saving.
Related machines
Chain type barbecue grill machine