The small grain mill is also called universal mills. "Universal" does not mean that it can grind any kind of material, but that it has a wide range of uses and can handle many kinds of materials. In addition, because of its small area and easy operation, this machine can be used for both commercial and domestic use.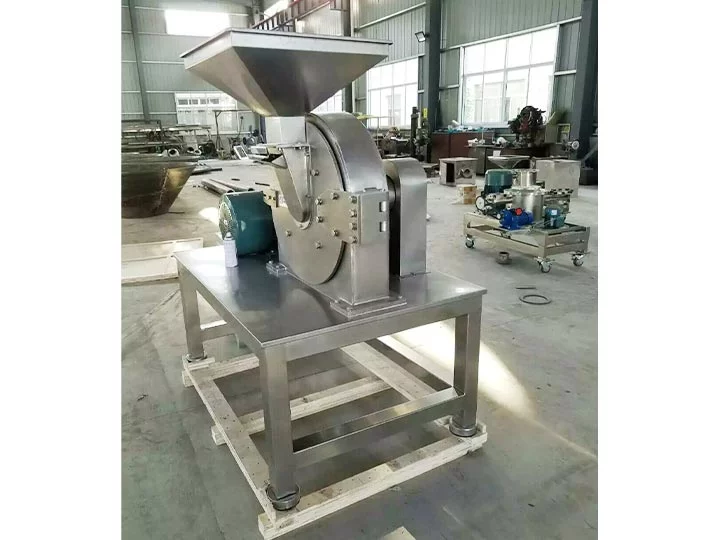 Small grain mill application market:
This machine has many uses and is especially suitable for grinding dry and brittle materials.
Pharmaceutical industry. Many medicines in the pharmaceutical industry need to be processed into powder to facilitate the next step. For example, Codonopsis Pilosula, Lycium barbarum, Poria cocos, Polygonum Multiflorum, Angelica Sinensis, Astragalus Membranaceus, etc., can use this machine for grinding.
Chemical Industry. This small grain mill is suitable for non-flammable and non-explosive materials with Mohs hardness of not more than 7 grades and humidity below 6%. These materials cover nearly 280 kinds and cover many fields such as mining, chemical industry, building materials, and metallurgy. For example barite, calcite, potassium feldspar, talc, marble, limestone, ceramics, glass, etc.
Food industry. A small grain grinder is an indispensable machine in the food processing industry. It can be used for grinding various cereals, such as corn, dried dates, soybeans, coix, red beans, etc. In addition, this machine is also widely used in seasoning. For example anise, pepper, cinnamon, pepper and so on.
In addition, this machine can be used to grind small animal skeletons such as fish bones and chicken bones for the manufacture of fertilizers or pet food.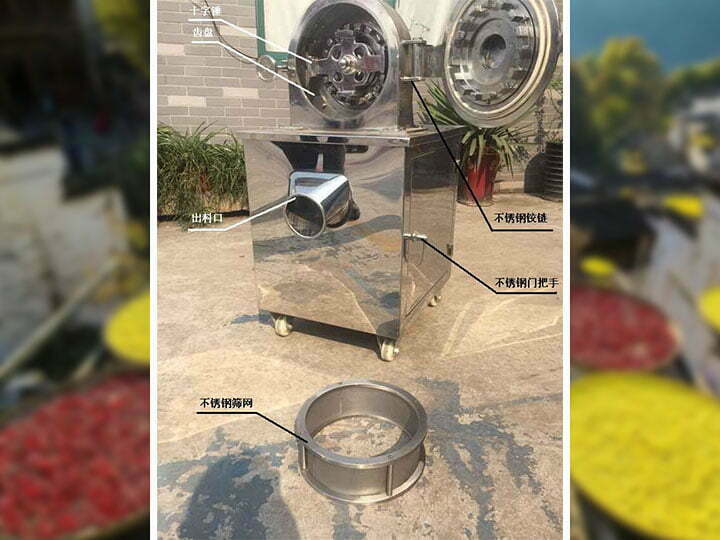 Machine construction and description of each part of the small grain mill:
Fixed fluted disc: Fixed on the door, with a large fixed fluted disc.
Movable fluted disc: there are flapping fluted disc, main crushing fluted disc and crushing fluted disc.
Screen: According to the size of finished products (mesh) requirements to select the appropriate size of the screen.
Switching and rotating direction: green-on, red-off, the motor rotating direction as indicated by the arrow marked by the machine (reverse rotation is strictly prohibited).
The whole body of this grain grinder is made of stainless steel. The inner surface of the shell is smooth after processing, which changes the phenomenon of rough inner surface and powder accumulation. The production of drugs, foodstuffs, and chemicals is more in line with the national standards and meets the requirements of GMP.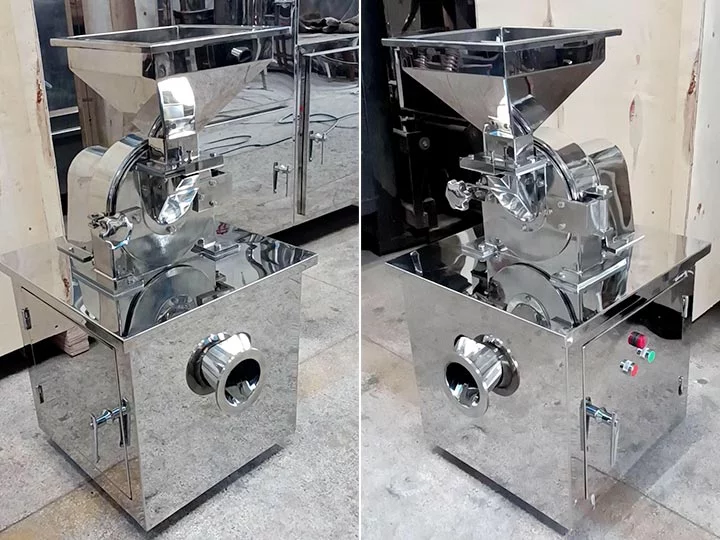 Working Principle of Small Grain mill
The machine utilizes the relative movement between the movable fluted disc and the fixed fluted disc at high speed to achieve the purpose of pulverizing the material by a combination of fluted disc impact, shearing and friction, and collision of materials with each other. The small grain grinder has a simple structure, stable operation, low noise, and good smashing effect. The pulverized material is discharged directly from the pulverization chamber. The particle size can be achieved by using different aperture screens.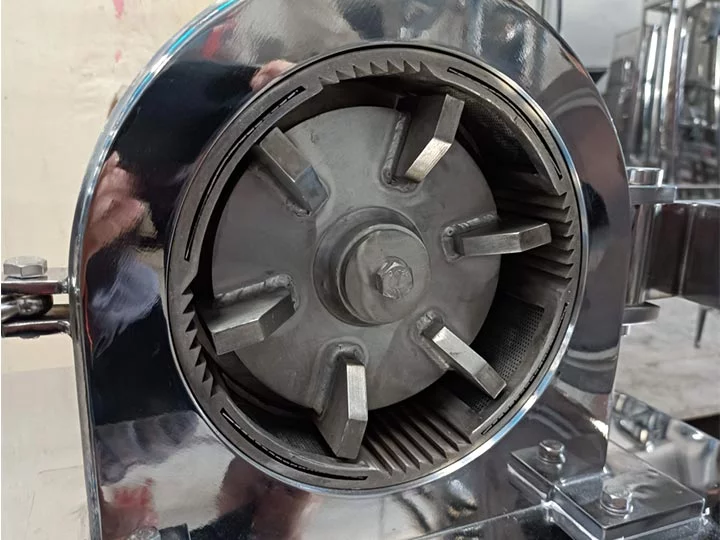 Parameter of the Small Grain mill:
| | | | | |
| --- | --- | --- | --- | --- |
| Model | TZ-20B | TZ-30B | TZ-40B | |
| Capacity(kg/h) | 15-150 | 30-300 | 80-400 | |
| Grinding Fineness(mesh) | 20-120 | 20-120 | 20-120 | |
| Material Limit(mm) | 10 | 10 | 10 | |
| Voltage(v) | 380V 4KW | 380V 5.5KW | 380V 7.5KW | |
| Motor Speed(r/min) | 5300 | 4500 | 3800 | |
| Product Dimensions(mm) | 690x710x1140 | 760x760x1300 | 790x870x1370 | |
| Weight(kg) | 150 | 200 | 260 | |
Installation, operation, and maintenance of the small grain mill:
Before starting the small grain grinder, you must check whether the door is closed. When closing the door, tighten the handwheel and the positioning bolt.
Connect the water cooling device to ensure sufficient water supply, and it is strictly prohibited water cut-off during operation.
When installing, turn on the power supply and check whether the direction of motor rotation is in line with the direction of the arrow. If it is on the contrary, please adjust the connection of the motor junction box.
When the motor rotates in the right direction, turn on idle for 30 minutes, check the lubrication and add lubricating grease in time. Check and replenish lubricating grease regularly.
Run for a few minutes before feeding, then slowly and evenly feed, do not fill the hopper, and pay attention to whether the current is overloaded to prevent damage to the equipment.
If there are any serious vibrations and noises during operation, it is necessary to shut down and check-in time.
Always keep the parts lubricated and clean. When you find any faults and defects, please repair them or replace them in time.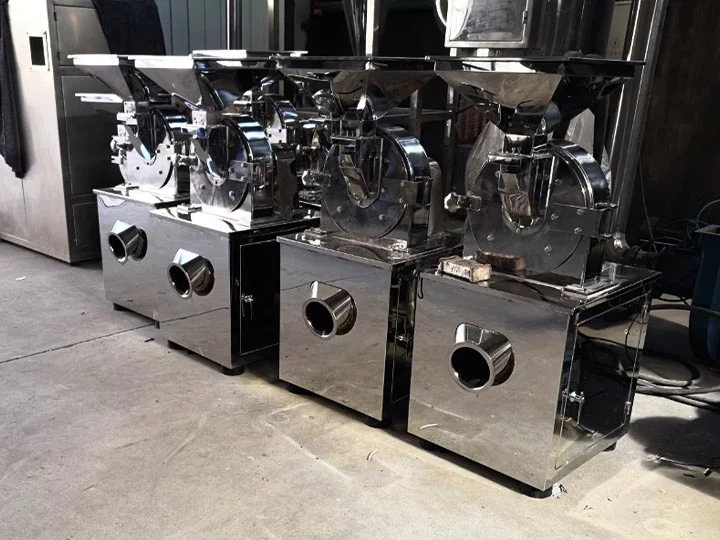 Small grain mill common problems:
What kind of raw materials can be milled?
A: Solid foods such as grains, peppers, and other natural ingredients such as ginseng. If you are not sure if this machine can handle your material, you can contact our customer service directly to inquire.
What is the output of the mill?
A: We have different models for this machine. The above parameter list only lists one machine for your reference. The yields for different models are also different. You can make a purchase according to your needs.
How fine is the finished product?
A: Generally it is 10-120 mesh.
What is the material of the product?
A: The whole body of the small grain mill is made of 304 stainless steel.
What is the voltage of the machine?
A: We can replace the transformer according to the local voltage requirements of the customer. So that it can adapt to the local voltage situation of the customer.
Can it be used to grind sesame?
A: This machine is not recommended for crops with high oil content such as sesame and peanuts. The machine may be blocked due to excessive oil.