The jujube grading machine is a machine for classifying small and medium-sized fruits such as jujube, walnut, Cherry Tomatoes, longan, and sea buckthorn. This machine can divide the materials into 4-7 grades according to size. The size of the selected fruit is more uniform and the grade is finer.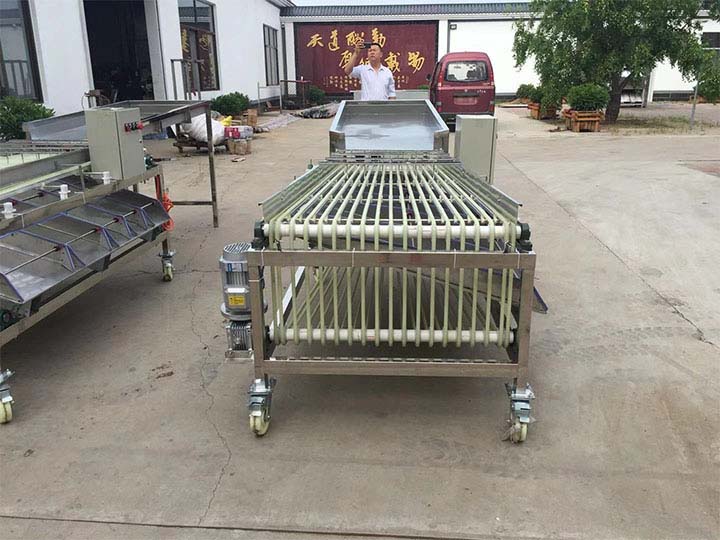 How to use the jujube grading machine:
This machine consists of a motor, a conveyor belt, a V-groove, a feed port, a discharge port, and a fuselage.
Turn on the power and observe the operation of the jujube grading machine.
After the device runs smoothly, put the prepared materials into the inlet of the classifier. The amount of material placed each time should not be too much, so as not to affect the subsequent grading work.
After screening, the material will fall into the corresponding hopper, there will be no confusion.
(You can adjust the distance between the adjacent conveyor belts before turning on the power supply, adjust the size of the classification, and make one jujube grading machine multipurpose.)
Advantages of jujube grader:
The conveyor belt is made of imported silicone rubber material. It is durable, tough, and wear-resistant. It overcomes the disadvantages of ordinary conveyor belts being easy to crack and easy to age, which is 5 times longer than ordinary conveyor belts.
The fuselage adopts a special v-shaped track groove, which is more sturdy, with stronger bearing capacity and less deformation.
All parts in contact with the material are packaged in soft packaging to avoid damage to the material due to bumps.
High quality, high power, and low-speed motor for smoother operation.
The distance between the conveyor belts can be adjusted, and the adjustment method is very convenient. It can do a multi-purpose jujube grading machine.
The fuselage lengthening design, extended to 3 meters, increases the number of grades that materials can be divided, up to 7 levels.
The body is made of stainless steel to avoid rust corrosion for long-term use.
Parameter of the jujube grading machine:
| | | | | | |
| --- | --- | --- | --- | --- | --- |
| Type | Weight | Size | Voltage | Power | Number of tracks |
| Tz-9 | 150 | 2.1*0.6*0.8 | 220 | 1.5 | 9 |
| Tz-13 | 150 | 2.1*0.6*0.8 | 220 | 1.5 | 13 |
| Tz-17 | 180 | 3.2*1.2*0.8 | 220/380 | 2.0 | 17 |
Related machine: