Screw oil pressing machine is very suitable for processing common oil crops, such as peanut, sesame, soybean and so on. A client from Kenya found our website in the process of browsing and left a message on the website saying that he would like to know about our machine information and quotation.
June, our sales manager, sent the quotation of the machine to the customer on time. The customer said that the price of the machine is within his budget. If the quality is good, he can immediately place an order.
We invite our customers to visit our factory, and they are very satisfied with the effect of this screw press. June inquired about the local voltage of the customer and learned that the local voltage of the customer is single-phase. Soon, June communicated with the factory technicians and improved the electronic components inside the machine to suit the local voltage.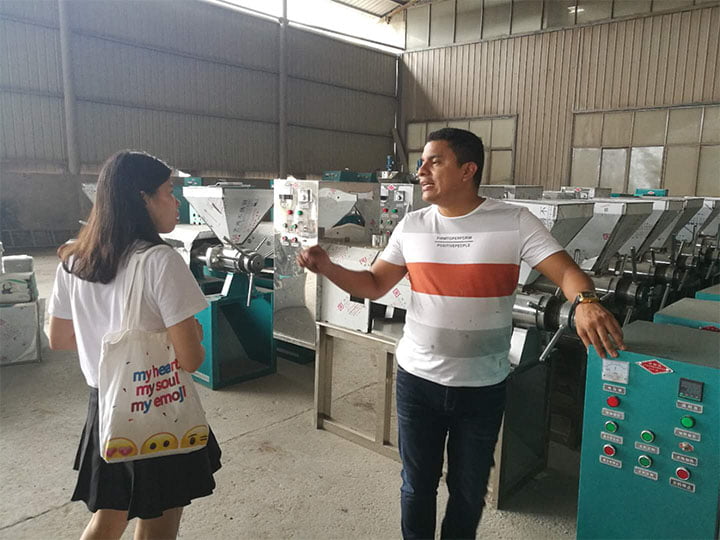 Customer evaluation:
Since the customer had no experience of importing goods before, there were some problems in the later delivery process. After we helped the customers to solve these problems, we began to deliver the goods. At present, the customer has received the screw oil pressing machine and has put the machine into production. "The effect of this machine is very good. I hope you can give us more discount next time," said the customer.
Advanced technology is adopted to ensure the original flavor of the oil to the greatest extent. The oil extracted from this machine is not only mellow but also no impurities.
The operation of this machine is very convenient and the degree of automation is very high. Even a novice can master the skills of the machine in a short time.
It is widely used and can be used to treat peanuts, soybeans and sesame seeds. Common materials such as olives, walnuts, and almonds.
The oil yield is high. With a reasonable structure, the oil output rate of this machine is about 3% higher than that of the general machine.
Excellent quality. Made of high-quality stainless steel, the service life can be extended by 2-3 years.
The floor space is small, the noise is very small, and the operation is stable.