The mesh belt dryer machine uses the hot air circulation principle to dry the materials inside the chassis. This machine is a new type of environmentally friendly dewatering equipment researched and developed on the basis of the traditional mesh belt dryer.
The structure of the mesh belt dryer machine:
The mesh belt dryer is mainly composed of the box body, multi-layer mesh belt, hot air furnace, hot air circulation fan, and dehumidification fan. The heating methods mainly include electric heating, coal heating, natural gas heating, and biological particle heating. In general, most heat is obtained by using coal heating. The electric heating method requires a heat pump, and the gas heating method requires a burner.
The application of the mesh belt dryer machine:
Fruit: it can be used to make banana slices, lemon slices, apple slices, jujube, and other fruit chips.
Vegetables: making mushroom chips, dried okra, chips, dried chili, etc. By the way, you need to wash the fruit before drying it。
Traditional Chinese medicine: it can be used to dry Rehmannia, yam, gardenia, wolfberry, honeysuckle, etc.
Flowers: dried flowers can be used to make flower tea, such as roses, jasmine, etc.
Seafood: shredded squid, dried fillet, kelp, laver, etc.
Other products: mosquito repellent, wood, etc.
In short, it is suitable for drying all flake, segment, and strip objects.
Of course, we also have a box dryer, which has a larger internal space and a wider application range. Box dryers can be used for drying and dehydration of bed sheets, clothes, and other larger items.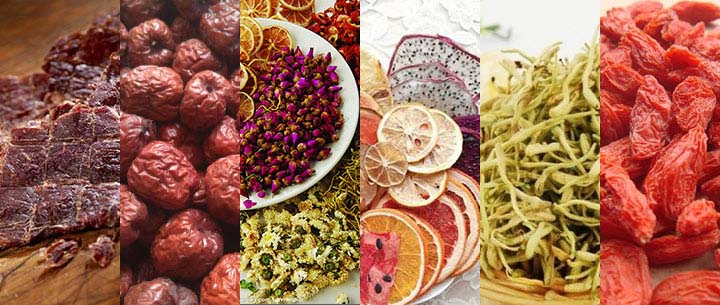 Features of the mesh belt dryer machine:
Wide range of applications.
Using the principle of hot air circulation, hot air passes through the material from top to bottom, and the heat is fully utilized.
Adopt the form of a mesh belt to increase the contact area between hot air and material, which can be continuously produced with low energy consumption.
The internal mesh belt of the mesh belt dryer machine generally has 4-5 layers, and the speed of the mesh belt can be adjusted infinitely, which can make the internal materials fully dehydrated.
The internal temperature of the machine can be adjusted, and the adjustment range is 20-120 degrees Celsius.
The drying process is mild, there will be no smoke or open flame, and the baked materials will be good.
The high degree of intelligence, no need for technicians to watch during the baking process. After the material is dried, the mesh belt dryer machine will automatically stop.
Technical parameter:
Mesh belt drying machine:
| | | | | |
| --- | --- | --- | --- | --- |
| Type | DW-1.2-8 | DW-1.2-10 | DW-1.6-8 | DW-1.6-10 |
| Heat exchange area(㎡) | 272 | 340 | 352 | 440 |
| Total equipment power(kW) | 11.4 | 13.6 | 11.4 | 13.6 |
| Size (m) | 10.05*1.5*3.15 | 12.05*1.5*3.15 | 10.05*1.91*3.15 | 12.05*1.91*3.15 |
| The total weight(kg) | 4800 | 5780 | 5400 | 6550 |
According to the different heat exchange areas, we have 4 mesh belt dryers for you to choose from. The heat exchange areas are 272㎡, 340㎡, 352㎡ , and 440㎡ respectively.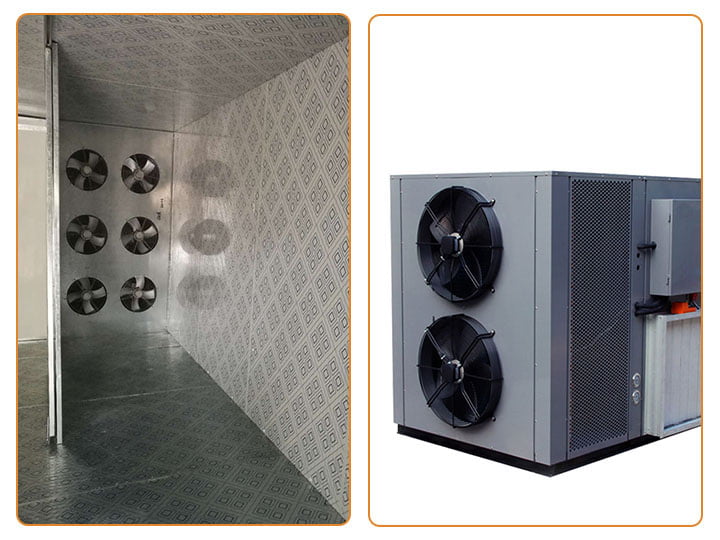 Automatic box dryer:
Type
Size (m)
Power   (kW)
Coal consumption

(kg)

Number of drying

Cart

Amount of drying material

(kg)

JC-6
7.2-2.3-2.5
3.16
5-15
6
600-1000
JC-12
10.2*3.3*2.5
4.05
10-20
12
2500-4000
JC-24
15.5*3.3*2.8
6.52
50-70
24
5000-8000
Our automatic box dryer can dry up to 8000 kg of material. The smallest automatic box dryer can also dry 600 kg of materials at a time. How many kilograms of material do you want to dry?
Successful case:
Customers from Mexico bought a 6-meter mesh belt dryer machine for drying the peppers. He said that the machine works well and will continue to contact us if necessary.