This ice cream machine is combined with the foreign advanced refrigeration technology, developed a new generation of mechanical refrigeration products. Product appearance elegant, imported famous brand compressor, a new digital circuit control system, easy operation, reliable performance.
Preparation of Ice Cream Material:
Many customers summarized a lot of receipts to make different ice cream when using this ice cream machine. If you use expanded ice cream powder, please follow the Expanded Machine Operation Manual to prepare ice cream material. We also provide an ice cream making processes as follow.
Receipt:
A: Ingredient(weight radio)
Full cream milk powder(8%) , white sugar(16%),  flavor(a little), emulsion stabilizer(15.5%) , water(75%),  food color(a little)
Attention: In this receipt, the proportion between milk powder and sugar is economy type.it can not be reduced any more. It will freeze and damage the hard ice cream machine if the content of sugar is less this proportion substitute saccharin for sugar. The stabilizer is to improve emulsification and overrun and prevent from freezing.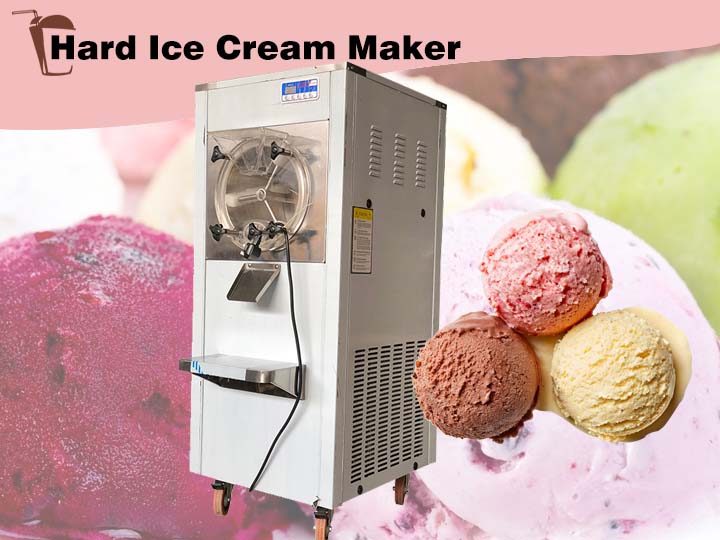 B: Prepare ice cream mix
All materials are weighed according to the information provided above. Put all the weighed materials into the container and mix slowly and evenly. Later, put it in boiling water and stir quickly to ensure that all the materials have been dissolved (boiling water is half of the total water). Finally add some essence, pigment, and water. When mixing, make sure that all the mixture is dissolved.
Attention: The mixer should be mixer equally and dissolved completely. Be sure there is no grain in the mixing. All materials and utensil should meet the hygiene required. Above two times input water volume should meet the hygiene required weight.
Note Before Using the Hard Ice Cream Machine:
In accordance with the national electrical safety standard, install the grounding
To ensure the power supply line machine is provided with a short circuit and leakage protection device.
Sanitary.
The machine should be placed in dry solid ground, not tilt phenomenon. The temperature around the heat source should not over 70℃, the machine should not be near the water and the sun's position.
The commercial ice cream machine should leave more than 30 centimeters of air space. The steam outlet should be greater than 1.5 meters to ensure the cooling of the machine. In addition, it should be ensured that no sundries will be inhaled from the cooling air outlet of the machine.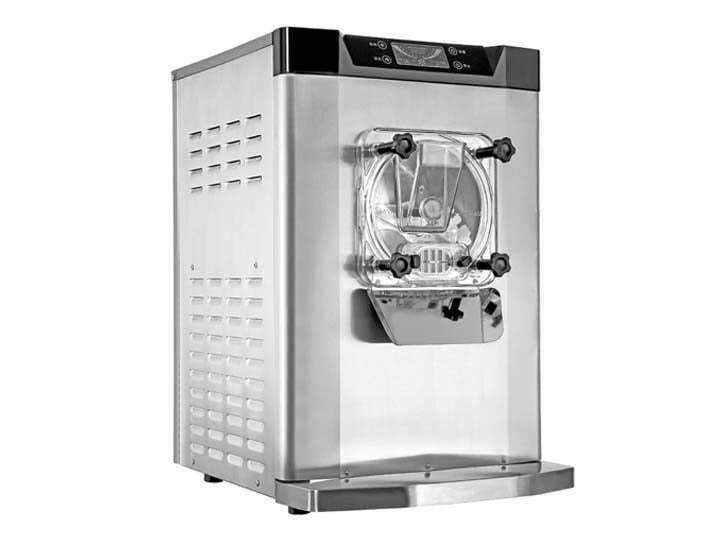 How to Make Ice Cream by Using Mk628 and Tk Series Hard Ice Cream Machine?
  (operation Panel of MK628 and TK series)
1.WASH key
Press the "WASH" key, the light on the key is on, and blender starts to work. Full cleaning water into hoppers on the hard ice cream machine. After mixing for 1 minute, take out all water from dispensing board's door. Repeal the process three times until the water is clean.
2.PRODUCE key
Press the "PRODUCE" key, the light on the key is on. Blender starts to work. After 3 seconds, the freezing system starts to work. The PC display starts to count down the freezing time. After the PC display finishes count down to zero, the compressor stops. The buzzer tweets to announce that freezing time passed and ice cream is ready. The blender is still mixing. Press STOP key to stop mixing and the machine comes into standby mode.
3.STOP key
Anytime you press STOP key, the machine will stop automatically and comes into standby mode.
By the way, you can also buy an ice cream cone machine to make a  processing line.
Parameter of Hard Ice Cream Maker:
Picture
Information
1

Mk-618

Model: MK-618

The refrigerant:R22

Tank capacity:4.3L*1

Capacity:16L-20L/H

1 Voltage:220V50HZ

Size:530*500*700mm USD670

Power:1400W

Weight:60KG

2

Mk-116

Model: MK-116

The refrigerant:R22

Tank capacity:4.3L*1

Capacity:16L-20L/H

2 Size:525*490*640mm USD670

Voltage:220V50HZ

Power:1400W

Weight:60KG

3

Aspl-N28

Model: ASPL-N28

The refrigerant:R22

Tank capacity:10L*1

Capacity:25L-28L/H

3 Voltage:220V50HZ

Size:520*780*1250MM USD1670

Power:2300W

Weight:100KG

4

Aspl-N35

Model: ASPL-N35

The refrigerant:R22

Tank capacity:10L*1

Capacity:35-40L/H

Size:520*780*1250MM

4 Voltage:220V50HZ

Power:3000W USD 2000

Weight:120KG

5

Aspl-N45

Model: ASPL-N45

The refrigerant:R22

Tank capacity:15L*1

5 Capacity:45-50L/H USD 2200

Size:520*780*1250MM

Voltage:220V50HZ

Power:3800W

Weight:120KG
(We have many different types of ice cream making machine, we can't list all of them over there. If you want to learn more, feel free to contact our customer service.)
Special attention should be paid to:
Ice cream making machine will inevitably be impacted during transportation. It is best to place them 24 hours before use.
Ice-cream material temperature is between 7 and 40 degrees Celsius. If it goes beyond this range, the machine will be damaged.
Dust on the cooling part should be cleaned regularly to avoid affecting the cooling effect.
380V machine must observe whether the end of mixing shaft rotates clockwise. If the direction is not right, please adjust it immediately.
Troubleshooting:
When the control panel fails during operation, all output will be stopped and the corresponding fault code will be displayed in the timer display window.
Fault code
Fault meanings
The fault reason
The solution
HH
Compressor without High voltage protection
Compressor pressure protection Switch off
1. Compressor circuit fault;

2. High-pressure protection switch fault

3. High-pressure protection switch disconnected

LL
The power supply voltage is too low
The input voltage is too low
Configuration power regulator
Pd
Velocity anomaly
1. Speed sensor

2. Ice cream too hard

1. Repair speed sensor

2.  Adjust the cooling time, avoid free ice cream material is excellent.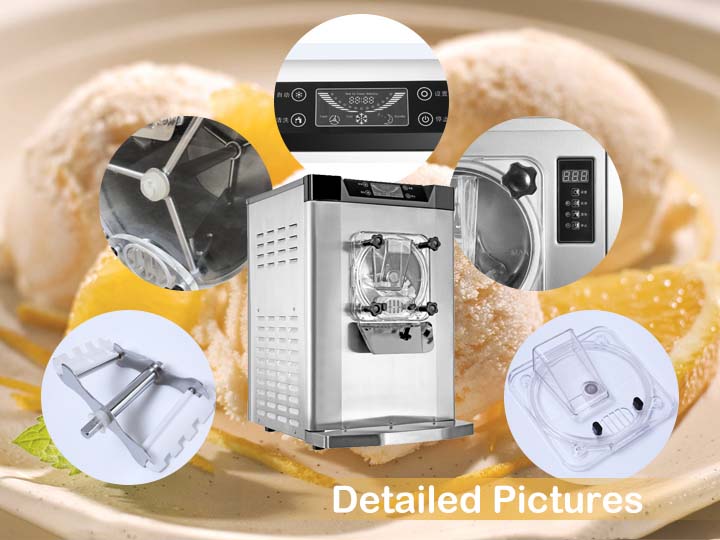 Maintenance of hard ice cream machine:
A:Fuselage cleaning can only be done with a wet towel. Do not wash the operation panel and internal parts directly with water.
B: When the condenser is covered with dust after working for a period of time, the refrigeration effect will become worse. So the condenser must be cleaned regularly. Note: Please turn off the power supply before cleaning. Be careful not to damage the radiator of the condenser. It is better to ask professional refrigerators to clean it.
C: After using the machine for a long time, the belt may wear. If this happens, adjust the motor base and replace the drive belt if necessary.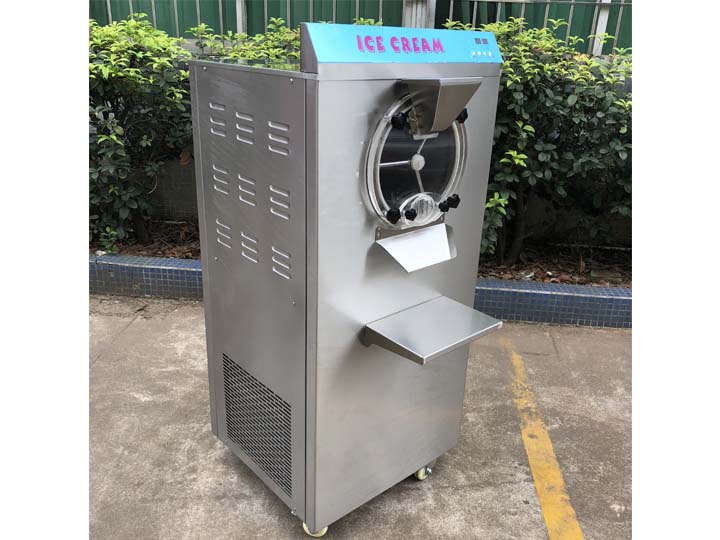 FAQ:
Are there any machines with the 30-35L output?
A: Yes, this popular ice cream maker has a lot of output.
Can this machine use three-phase electricity?
A: Can you use single-phase electricity over there? The effect of three-phase electricity is the same as that of single-phase electricity, but the cost of three-phase electricity is very high.
How long does it take to refrigerate?
A: It takes about 4-5H for the first refrigeration and 3-4H for the later refrigeration.
What material is the machine?
A:The whole machine is 304 stainless steel.
What kind of refrigeration mode is the machine?
A: Water-cooled.
What ingredients are needed to make ice cream?
A: Water and ice cream powder.
What refrigerants are used?
A: R22, can you buy it locally? Because this refrigerant can't be transported by air or sea.
How long does it take to freeze before it can be modeled?
A: It will probably take more than two hours to freeze.
Can i use this ice cream making machine to make strawberry ice cream
A: Of course,you can use this machine as a strawberry ice cream machine